Undoubtedly, even in your business, the Sales team's job is most likely to be the hardest. After all, they are the ones tasked with obtaining and maintaining customer information.. Surely, they use this information the most, but none of the organization's operations can run smoothly without this critical data and contact intel. In spite of being so important, customer information will almost never come together in a meticulously organized way.
Imagine the typical sales office in any organization. The salespeople on board will be busy taking calls, making pitches and talking to prospects, leads or customers. They're working hard to extract invaluable customer data. Sadly, information is scattered across a variety of channels and places, given how demanding and high-powered this process is, Maybe the call software has a comprehensive call log that is incredibly useful, but it lacks some important insight your salesperson discovered on the call.
That insight was probably written on a sticky note that could get lost in nothingness at any time. Additionally, critical customer information or communication details are scattered across digital calendars, spreadsheets, documents, email trails, or other platforms.
Such scattered information is a nightmare in a scenario where salespeople have to regularly retrace their communication with customers to do their job skillfuly. Imagine how difficult it would be to get quick updates or keep a track of things in this case. Moreover, sales in today's era are time-sensitive. Everything has to be done fast, swiftly and efficiently. If you sales team's daily schedule looks like this, it isn't feasible to your organization's long-term success.
This is where CRM systems can be very useful. Such software systems can help you bring cohesion and uniformity within operations for streamlined processes.
What Is Customer Relationship Management Exactly?
Customer Relationship Management (CRM) is not a standalone software, activity or product. It refers to the various tools, techniques, technologies, and strategies employed by organizations to seek, acquire, develop, nurture, or even retain customers. These include present, past and even prospective customer relationships. CRM ensures that all the interactions with stakeholders run smoothly and flow freely without lack of information hindering your organizational goals. The end goal of a smooth-running CRM system is to make the process of sales easier and increase overall profits for the company.
CRM software helps an organization gather customer-centric data from multiple platforms or channels. It can be customized for each individual organization's unique needs. Moreover, it can store detailed information about the customer's buying journey. A CRM system can detail information right from personal info and contact details, to purchasing habits and even buying behaviour patterns.
All in all, your Customer Relationship Management system's key function is its ability to bring all important customer information into a cohesive and structured format. It makes doing business easier with handy intel to fuel your outreach efforts. The customer's complete relationship with your organization can be detailed in this manner. Such systems store and optimize deal details including notes, insights, call details, emails, and appointments.
Moreover, if you opt for the service, you can get live-notifications when your customer performs an activity with significance to you. You'll get notifications when some clicks on a link via email, signs up for a webinar, visits your service or price page, or even interacts with your website chat system. We don't have to tell you the importance of having such valuable information at your disposal.
The Biggest Reasons to Clean You Customer Relationship Management System
Given how important a CRM system's functionality is to your sales efforts, you must do everything in your power to maintain, clean and optimize your Customer Relationship Management technology. Let's learn the most important reasons in this article.
Optimize Time
Sales can take time to land, but the faster you can sell, the faster you'll rake in the big bucks. With a CRM system, as we explained above, sales teams can maximize their productivity. However, if the database which powers the CRMs system is out dated, irrelevant or full of incorrect information, the time you're so keen on saving will be wasted instead.
An awfully maintained customer relationship management system will end up with your sales efforts being wasted on dead end targets.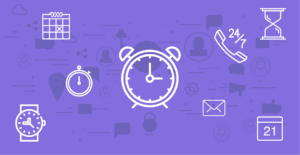 image source
Estimates suggest that 20% of records that make their way to a CRM system are duplicates. Moreover, precious time is wasted on these duplicates – time that could have otherwise gone to more return-generating activities. Bad data in your CRM is not entirely unavoidable. This makes keeping your Customer Relationship Management system clean even more important.
Save Money
No business owner can say no to spend less while getting more out of their investments. Employing a CRM system is surely a great way to optimize your investments by giving sales teams a one-stop communication solution. However, if this system is riddled with bad data, it takes away time and money.
Ineffective records cause your ad campaign results to drop. Such records are capable to losing money through leaks in the sales funnel. Moreover, without the backing of valid data, scheduling appointments, pitch meetings, phone calls, and even maintaining email or call logs becomes challenging. Without crystal-clear insight that up-to-date intel can bring, a CRM system doesn't add value to your investment. This makes Customer Relationship Management system cleaning and maintenance extremely vital to your organization's health.
Improve Marketing Response Rates
Contacting people from a bad email or marketing list is sure to bring average results at best. The response to your marketing campaigns in such a scenario won't be ideal. You can't undertake a full-fledged campaign on any platform with out-dated or irrelevant data.
A CRM system will streamline the process of executing campaigns and even developing them. But if it isn't supplemented with regular maintenance or cleaning, it will cause you to target the wrong people. Additionally, it may lead to getting blacklisted by email ISPs. With regular customer relationship management cleaning services, you are in a position to make insightful evaluations. You can evaluate if a person is an ideal customer for your organization or if they will respond to a particular marketing action. Moreover, it makes it easier to build trust and credibility by providing a smooth customer experience.
Retain More Customers
For any organization, retaining customers is a far more lucrative deal than acquiring new ones. This reselling to existing customers is furthered by a sense of trust and credibility in the market. A CRM system can get you to a position where retaining customers is easier. However, for this to be a reality, you need to clean and maintain the system for optimum functionality.
The last thing you need is a customer's agitation set off by unwanted or unsolicited communication on your part. If your reps will repeatedly send across redundant info to existing customers when they're not ready to buy, they may be put off. Eventually, this might translate to lower open rates, dropping click-through rates, and poor response in general. In such a scenario, cleaning out your CRM system regularly helps you stay on the edge and retain customers effectively.
The Bottom Line
Sure, you now know that Customer Relationship Management cleaning services are not something to skimp on. But, is there a type of cleaning that assures you better results?
At BizProspex, we believe that manual CRM data cleaning services/ data mining services have an edge over all other types of cleaning. When a bad Customer Relationship Management system can ruin your efforts, shoddy maintenance doesn't really make a big difference. Instead, the focus is on finding a service that ensure immaculately verified, perfectly updated and meticulously checked records at the end.
With manual CRM data cleaning services, you are ensured top-notch results because as compared to machine intelligence, skilled technicians manually keep your CRM database running. The kind of accuracy that guarantees results for CRMs comes from hands-on, professional attention.
CRM data cleaning services are best availed from organizations that take the manual approach to maintaining your CRM. To ensure that your own teams don't waste precious time, money or resources in the long run, such extra effort is required in such processes.
Right from Manual Data Cleaning or Researching, B2B Lead generation, skip tracing, data verification to CRM Cleaning, crm data appending, tech appending, data scraping, data scrubbing, web scraping services or anything related to Data, BizProspex is the right partner for your B2B business. If your marketing efforts aren't bringing in the results you desire, it may be time to consider a Customer Relationship Management partner today!